PPR ANTIBACTERIAL PIPE
ZHSU PPR antibacterial pipe is a PPR pipe with double layer dense structure, inner anti-bacterial layer adopts high crystal nano-level active material,which can release Ag ion to kill bacteria, outer layer used food grade PPR raw material,non-toxic, safe, light-blocking function, pipe is opaque after special process treatment, not easy to breed bacteria, microbial photosynthesis prevented, high strength and low linear expansion coefficient, bear up to 70℃ working temperature with more than 50 years service life.

SPECIFICATION
CUSTOMIZED SERVICE
FACTORY
ZHSU PPR antibacterial pipes are suitable for hot and cold potable water application, is a PPR pipe with double layer dense structure, inner anti-bacterial layer adopts high crystal nano-level active material,outer layer used food grade PPR raw material.

PPR antibacterial pipe is featured as light-blocking function,pipe is opaque, which makes the water inside the
pipe not easy to breed bacteria, prevented the microbial photosynthesis, prevent the pipe's wall from moss growing, meanwhile characterized by high strength, low linear expansion coefficient and 50 years work time.

Our PPR antibacterial pipes' outer layer are made of 100% new raw material from Borealis and South Korea , the inner anti-bacterial layer inside the pipe can release Ag ion which can kill bacteria inside the pipe, which ensures the health and safety of water or other fluids, makes the pipe highly hygienic and non-toxic

SPECIFICATIONS
Material : PPR raw material plus high crystal nano-level active material
Size : 20mm(1/2'') to 160mm(6'')
Pressure : PN10/S5 to PN20/S2.5
Color : Green, Purple and Grey for outer layer, milk white or transparent white for inner layer
Length : 4 meters, 3 meters, 5.8 meters per piece
Standard : ISO 15874,DIN 8077/8078, GB/T18742-2004
Connection : Socket fusion
Size (mm)

Size (inch)

PN10

PN12.5

PN16

PN20

Thickness (mm)

Weight (kg/meter)

Thickness (mm)

Weight (kg/meter)

Thickness (mm)

Weight (kg/meter)

Thickness (mm)

Weight (kg/meter)

20

1/2''

2

0.114

2.3

0.127

2.8

0.148

3.4

0.172

25

3/4''

2.3

0.163

2.8

0.191

3.5

0.231

4.2

0.267

32

1''

2.9

0.259

3.6

0.313

4.4

0.371

5.4

0.436

40

1 1/4''

3.7

0.411

4.5

0.488

5.5

0.578

6.7

0.676

50

1 1/2''

4.6

0.631

5.6

0.750

6.9

0.894

8.3

1.041

63

2''

5.8

0.993

7.1

1.209

8.6

1.404

10.5

1.655

75

2 3/4''

6.8

1.377

8.4

1.679

10.3

2.000

12.5

2.345

90

3''

8.2

1.957

10.1

2.422

12.3

2.869

15

3.487

110

4''

10

3.013

12.3

3.610

15.1

4.301

18.3

5.037

160

6''

14.6

6.385

17.9

7.630

21.9

8.927

26.6

10.601
APPLICATION
1: Hot and cold potable water piping system in residential and commercial buildings,hospitals,hotels etc.
2: Food transportation
3: Industrial and medical fluids transportation
TEST & INSPECTION


TEST

REQUIREMENT

RESULT

Visual Inspection

There is no color aberration for PPR pipe,PPR pipe surface must be smooth, without hollow,bubble,visible impurity or any other defect

Qualified

Non-Transparency Test

PPR pipe shouldn't be transparent

Light Proof

Vertical Reversion Rate

≤2%

0.7

Impact Test

damage rate < 10% of samples

No damage

Hydro-static Pressure Test

1 6 Mpa pressure for 1 hour under 20℃ temperature

No crack,no leakage

4.2 Mpa pressure for 22 hours under 95℃ temperature

No crack,no leakage

3.8 Mpa pressure for 165 hours under 95℃ temperature

No crack,no leakage

3.5 Mpa pressure for 1000 hours under 95℃ temperature

No crack,no leakage
SOCKET FUSION JOINT FOR PPR PIPE SYSTEM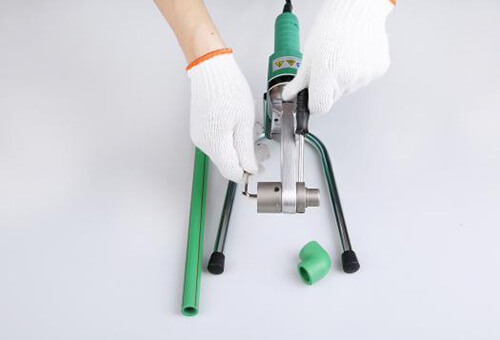 1 Fusion Preparation
Choose the suitable sockets and install, prepare the fusion machine,tools and fusion material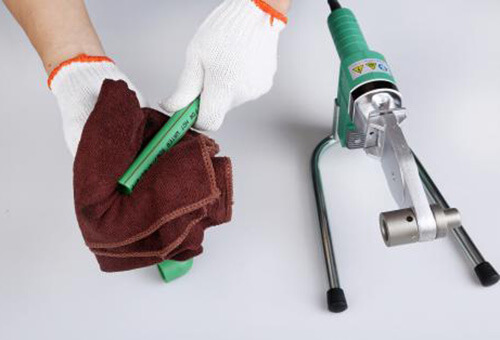 3 PPR pipe Cleaning
Cleaning the PPR pipe welding Surface with alcohol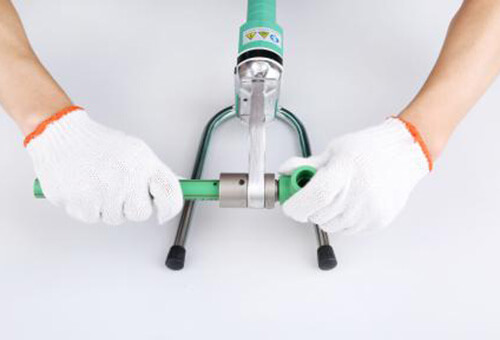 5 Heating
Push the PPR pipe and PPR fitting into the welding tool up to the welding depth without turning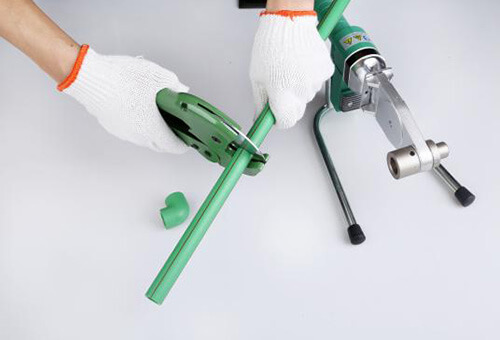 2 Cutting the PPR pipe
Cutting the requested length with the specified PPR pipe cutter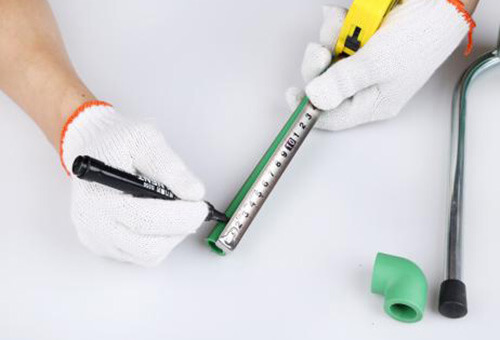 4 Measure Depth
Marking the suitable depth for specified PPR pipe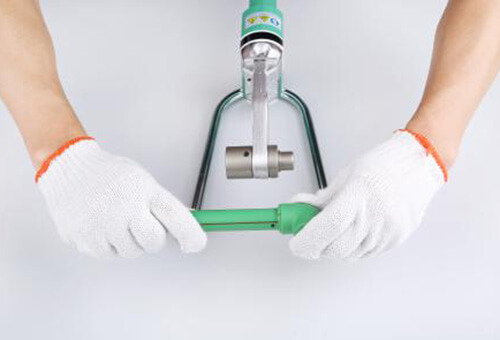 6 Fusion and Connecting
Push the heated pipe and fitting exactly and suitable adjustment, adjustment should be finished within 5 seconds
The PPR Pipe Fusion Date Sheet
Diameter
(mm)

Welding Depth
(mm)

Heating Time
(s)

Welding Time
(s)

Cooling Time
(min)

20

14

5

4

2

25

15

7

4

2

32

16.5

8

6

4

40

18

12

6

4

50

20

18

6

4

63

24

24

8

6

75

26

30

8

8

90

29

40

8

8

110

32.5

50

10

8
Remarks :
→ The heating time for the PPR pipe should comply with the requirement of PPR products and be adjusted according to the working temperature.when the working temperature is bellow 5℃,the heating time should be extended by 50%.
→ When the heating was finished, quickly remove the pipe and fitting from the welding tools, join them immediately without turning until the marked welding depth is covered by the bead of PPR from the fittings
→ The joint elements have to be fixed during the specified assembly time, after the cooling period, the fusion joint is ready for use
2:NEW PRODUCT DEVELOPMENT
ZHSU prefer to make new mould for new product if it was popular used on your market
4:INSPECTION REPORT BY ZHSU CNAS LAB.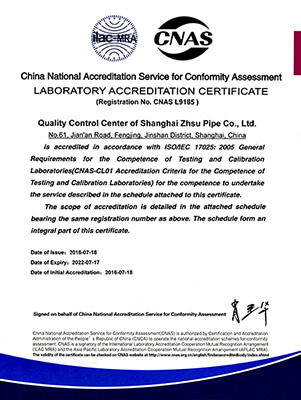 6:CUSTOMIZED PRODUCT COLOR
Green PPR pipe and fitting
White PPR pipe and fitting
Yellow PPR pipe & fitting
Double layer color PPR pipe
ZHSU PPR WORKSHOP
Zhongsu PPR workshop adopts German battenfeld-cincinnati production lines to organize production in strictly accordance with international standard, production capacity reached 5 meters per minute, fast delivery time with quality guarantee.
ZHSU CNAS NATIONAL LABORATORY
ZHSU has CNAS proved national laboratory, 100% imported Borealis or South Korea raw material for PPR pipes and fittings, full sets of inspections will be made by zhsu national laboratory for each order during and after production procedure, meanwhile CNAS inspection report will be provided and traceable.
High quality assurance for green and healthy pipes, we cherish every drop of water as it's our social responsibility and mission
ZHSU FACTORY
Shanghai Zhongsu Pipe Co.,Ltd established in 2004 with 1.01 billion registration capital, situated in Jinshan district of shanghai china, occupied 70000 square meters, there are 5 workshops at present, they are PPR workshop, PE for water & gas workshop, PVC workshop, HDPE double wall corrugated pipe workshop and warehouse workshop.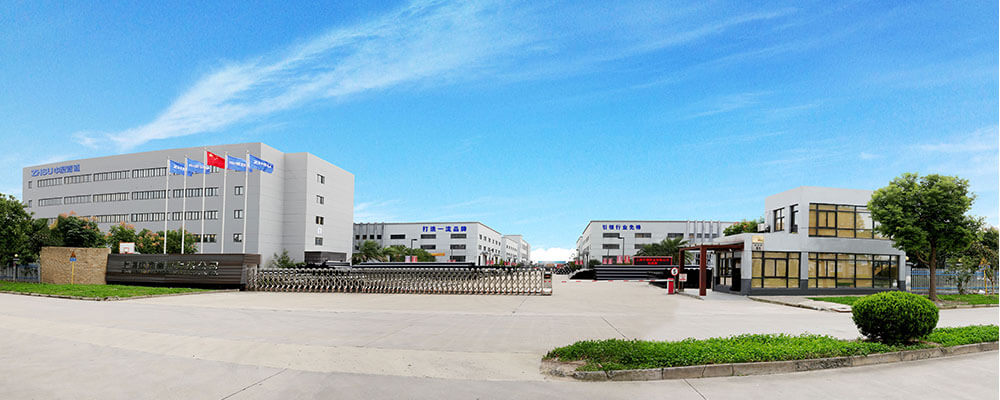 ZHSU PPR PRODUCT STOCK
Enough stock for common standard PPR pipes and fittings, fast delivery
PACKING & DELIVERY
Woven bags for PPR pipes, OEM customized woven bags are available
Paper box for PPR fittings, customized paper boxes are available
Professional container shipment,vessel companies we usually cooperated with are MAERSK、COSCO、EVERGREEN etc.
Feedback form contact with us